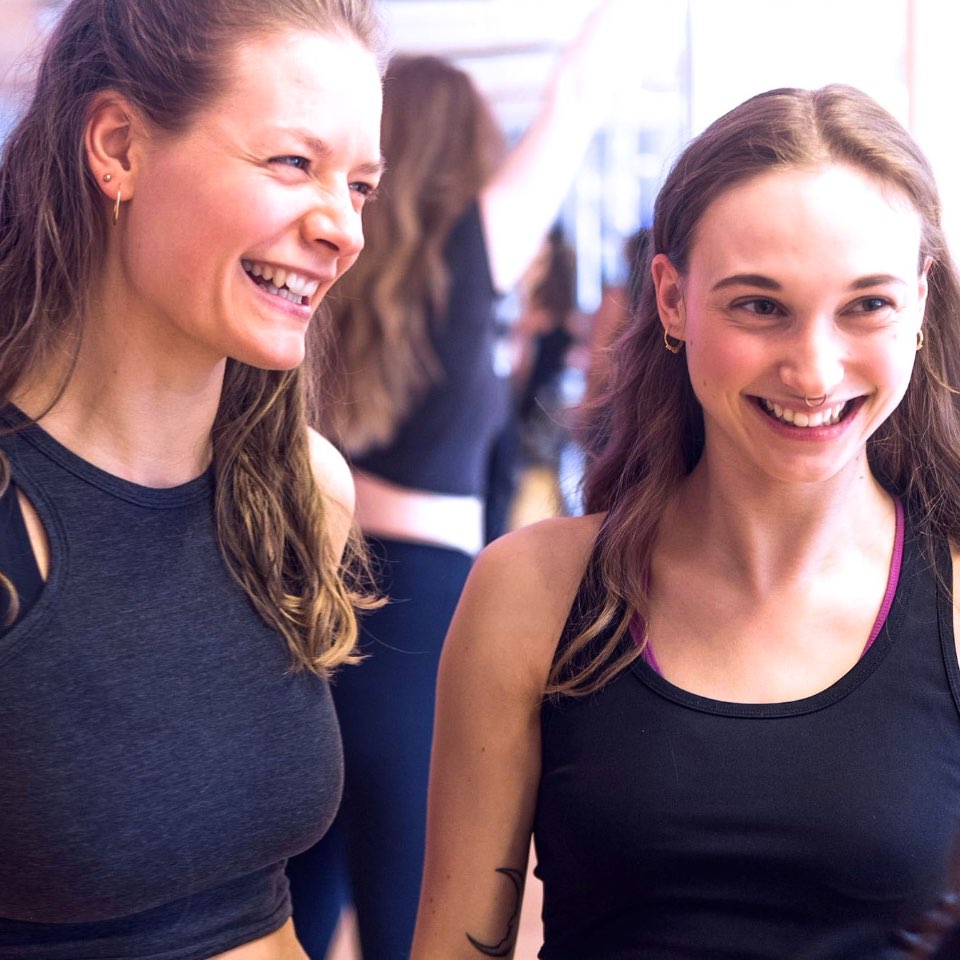 What is poledance at Pole Academy?
Pole Academy is a pole dance-studio where there is room for everyone. All our training is adjusted according to everyone's individual level.
Pole dance is a kind of training where you work out by means of your own bodyweight. At Pole Academy we focus on strength, flexibility, and dance. You will get to know your body better and move your own boundaries.
Our team consist of a group of fresh and competent instructors, all of whom have experience with the sport and other sorts of training and who have practiced pole dance for many years.
Take a look and remember that you can contact us any time if you have any questions.
Poledance is the perfect combination of
Get your whole body in use and have fun at the same time. That is why we have become hooked on pole dance and that is why you will attend the classes you book.
This is what our sweet members say …
"It became the start of a fun and new adventure with high development in every lesson. Every time I attend a pole dance lesson, I learn something new about myself, others around me and additional aspects of techniques. It is so cool to feel the tremendous development and to feel sore in muscles I didn´t even knew existed. Pole dance for me is a fun and pleasant way of working out and definitely a way of training that I can recommend."
"Pole dance for me is a different form of exercise, where you have fun and gain another kind of control over your body simultaneously. It strengthens body and soul. It gives you energy.
There are wonderful instructors who challenge but also consider the physical damages one might have. As for me for instance, I have two disc-herniations in my lower back.
I look forward to it each time I'm going there."
"Pole Academy is not only a place I work out. Pole Academy and pole dance is my sanctuary, my own free space in a busy everyday life, where I can get my thoughts at a distance. I love the environment and the accept of me arriving there just the way I am. Pole dance makes me feel more comfortable in my own body which has become strong and healthy. The biggest asset of Pole Academy are the instructors!  They are very skilled and competent and they for sure are the reason why I will continue my training at this studio far into the distant future."
Birgitte
27. Oktober, 2020.
Helt fantastisk oplevelse 👏🏼👏🏼 Vi havde arrangeret polterabend og vi havde en fest!! Lisa er mega dygtig, professionel, sjov og virkelig god til at lære fra sig - kan kun anbefales👍🏻👍🏻👍🏻
Helt perfekt sted til Polderabend - en rigtig god oplevelse
Ida Christensen
13. Juli, 2020.
Vi havde en helt vild god og sjov time i forbindelse med min søsters polterabend. Nem kommunikation hele vejen igennem. Der blev taget hensyn til gravide og musikønsker. Jeg kan kun anbefale stedet og den søde instruktør på dagen Lisa 😊
Karoline Spaniel
6. Juli, 2020.
Super fed oplevelse, hvor er dee plads til alle. Det var et niveau, hvor alle kunne være med. God, smilende instruktør, der havde tålmodighed til en krævende tøsepolterabend. Vi grinede fra start til slut. Tak for oplevelsen.
Frederikke S
6. Juli, 2020.
Virkelig en god oplevelse! Sød instruktør og højt humør
Et skønt miljø med et helt unikt personligt sammenhold og atmosfære. Instruktørerne er profesionelle og dygtige, og forstærker den gode stemning og en følelse af hjemlighed! Pole Academy kan varmt anbefales, hvis man er til alternativ træning hvor det sociale også er i fokus! Det bedste sted at træne pole i Aarhus!! Alle bedste anmeldelser herfra <33
Pole udøver
5. April, 2020.
Jeg er meget tilfreds med pole Academy. Der er fin plads på holdene, instruktørerne er utrolig dygtige, og stemingen i studiet er altid varm og positiv.
Maria Møller
30. Marts, 2020.
Skønt pole-studie, med en fantastisk energi.
Pole academy er et fantastisk sted med skønne mennesker. Man får altid en bedre dag efter man har været der.