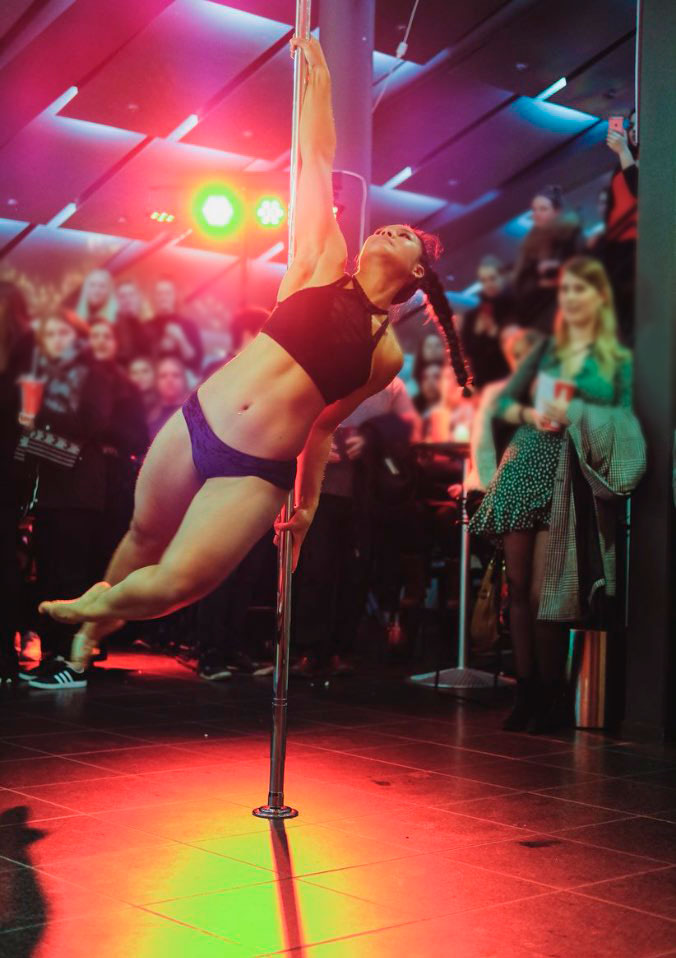 Book a pole show for your event
Do you want to turn up the entertainment for your party or event?
We like to come with an entertaining dance and / or pole show, and we take both the dancers and the equipment with us, so you do not have to think about anything but only a place we can be.
Here are a few examples of events we've already been to:
Cinema premiere | Girls Night Out | Aarhus Festuge |
Smukfest | North Side festival | Opening of new store
Contact us for ideas for shows, information, prices and booking.
Our more skilled instructors and students can give various shows within the pole and dance world. In addition, we often go out and do several different shows for the same event or repeat a show several times during an evening. For example, you can combine a pole show with a teaseshow. A regular show lasts approx. 3-4 minutes. We do shows within:
"We also want to be involved"
Why just look when you can be allowed to join?
In addition to booking pole shows, it is also possible to book us in for a workshop.
For many types of events, it is obvious for the guests to try their hand at the pole themselves. In this way, we combine pole shows with workshops, where we regularly give introductions to pole dance and guide guests and passers-by in beginner-friendly spins and tricks.
It provides a really good, interactive experience and entertainment, which is extremely popular for festivals, for example.
Are you looking for entertainment for bachelorette parties? Read much more about our bachelorette parties here.
"Our coach who came out was tremendously good at being in the situation, getting us involved in a calm and appreciative way, so we just felt like there was room to be us, room to laugh and room to fail . Thank you very much. It was a really good experience."
– Jacob
Well, isn't it complicated to visit us with your pole?
No, not really. As a host, just make sure, we have a place, we can be, where there is reasonably fine space around and preferably a reasonably hard surface. If you book a chair dance, we need a hard surface, and if you book a teaseshow, we can easily dance on a soft surface. For pole shows, we have two types of poles: one that is set in tension between floor and ceiling, and one that can stand freely in the open air. Check it out here: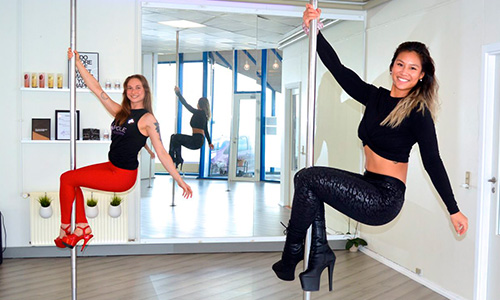 Show with ceiling
If you have a ceiling, where it is possible to put something in tension, then it will be preferable. It just requires that from floor to ceiling there is somewhere between 2.40 meters to 3.20 meters. Now you might not go and measure the distance between your floor and ceiling on a daily basis? So maybe it is helpful to tell that a typical ceiling height in a Danish home is about 2.5 meters. If there is a load-bearing beam or a concrete ceiling, it is no problem to set up a pole. Of course also without ruining your ceiling or leaving marks.
Show without ceiling
If you have high ceilings or want an outdoor pole show, we will come by with our transportable pole, which you can see in the pictures here. We can easily set it up ourselves, but we are happy to accept a little help from strong people to carry it from the car to its place. This pole is 3 meters high and the bottom has a diameter of 2 meters. It is most stable on a solid surface, but it can also easily stand on an ordinary lawn. We have even once had it out on a rocking platform in Aarhus river.
A dance or pole show is not a strip show as you might know it – or imagine it – from a strip bar.
Pole dancing can be based on different dance styles, such as burlesque and modern dance. We make a lot out of music and costumes choices and often attach a storytelling to the show. Do you have wishes for a show that tells a special story? So contact us and let us together design a special show for exactly your event.
Get a sense of what you can expect from a pole show in this video, where sisters Lisa Tran (owner of Pole Academy) and Nanna Tran (instructor at Pole Academy) participate in Denmark's largest pole competition Danish Nationals.
Contact us and hear about available dates
Do not hesitate to contact us, if you have any questions. We like to talk about ideas for shows, practical information and booking.
The prices of dance or pole shows obviously depend on the duration and size of the show. Fill in as much as you can in the contact form, and then we will probably return with a good price for your dance or pole show.
Birgitte
27. Oktober, 2020.
Helt fantastisk oplevelse 👏🏼👏🏼 Vi havde arrangeret polterabend og vi havde en fest!! Lisa er mega dygtig, professionel, sjov og virkelig god til at lære fra sig - kan kun anbefales👍🏻👍🏻👍🏻
Helt perfekt sted til Polderabend - en rigtig god oplevelse
Ida Christensen
13. Juli, 2020.
Vi havde en helt vild god og sjov time i forbindelse med min søsters polterabend. Nem kommunikation hele vejen igennem. Der blev taget hensyn til gravide og musikønsker. Jeg kan kun anbefale stedet og den søde instruktør på dagen Lisa 😊
Karoline Spaniel
6. Juli, 2020.
Super fed oplevelse, hvor er dee plads til alle. Det var et niveau, hvor alle kunne være med. God, smilende instruktør, der havde tålmodighed til en krævende tøsepolterabend. Vi grinede fra start til slut. Tak for oplevelsen.
Frederikke S
6. Juli, 2020.
Virkelig en god oplevelse! Sød instruktør og højt humør
Et skønt miljø med et helt unikt personligt sammenhold og atmosfære. Instruktørerne er profesionelle og dygtige, og forstærker den gode stemning og en følelse af hjemlighed! Pole Academy kan varmt anbefales, hvis man er til alternativ træning hvor det sociale også er i fokus! Det bedste sted at træne pole i Aarhus!! Alle bedste anmeldelser herfra <33
Pole udøver
5. April, 2020.
Jeg er meget tilfreds med pole Academy. Der er fin plads på holdene, instruktørerne er utrolig dygtige, og stemingen i studiet er altid varm og positiv.
Maria Møller
30. Marts, 2020.
Skønt pole-studie, med en fantastisk energi.
Pole academy er et fantastisk sted med skønne mennesker. Man får altid en bedre dag efter man har været der.