Join Pole Academy's team and learn to shake that booty to energetic bouncy rhythms! With us, you can learn the popular dance step both as part of our weekly classes and as a bachelorette party activity. Our instructors have taught twerking for several years, performed at several shows and participated in the Danish Championship in twerking.
As an expression of joy and celebration in West African culture, twerking has over time moved to the hip hop dance scene of the nineties in New Orleans and from there on to the mainstream media, when Miley Cyrus in 2013 shook her booty on stage for her viral VMA performance – maybe you remember that?!
For us at Pole Academy, twerking is a way to get in touch with yourself, increase your body control and become comfortable expressing your sexuality. More importantly, it's an absolutely fantastic mood bomb, and it's not uncommon for our classes to end in lots of smiles and laughter.
Hit play on this song from Spotify, and get in the twerking mood while you read on.
Twerking is working (out)!
Shaking your booty is extremely good training. Get better at coordinating your movements and getting sweat on your forehead while having a party. Our teaching is always adapted for beginners and experienced – everyone can participate.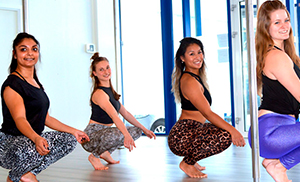 Technique
We always take the techniques from scratch. Both so that everyone can participate, but really also because it is through the technique exercises, that we from time to time increase our body control and become more skilled, at isolating the various muscles and learning to tense up and let go in the right places at the right times. In addition, there are many ways to twerk! Therefore, the classes will also alternately focus more on a specific move.
Choreography
Basically, twerking is just one dance move out of many! Therefore, of course, we always put the movements together into a delicious choreography, which is most often based on seductive tease, chairdance and dancehall. On our class, you therefore not only learn to twerk, but especially also to incorporate the popular dance step into a flow that you can continue to practice at home or maybe even take with you on the dance floor.
Cardio
If you've been standing in a low squat for a long time, you know how good a shortcut it is to get warm! Then add straight hip and booty movements as well in a choreography, and then we promise that your heart rate will probably increase and sweat will probably trickle out on your forehead. Twerking is a good workout! And our experience at Pole Academy is that when training is fun, you are much more likely to get away every time. We hope to see you to a twerk class!
It is a great advantage to have a big butt
As a dance studio, we place great emphasis on body positivism, and on using and enjoying our bodies exactly as they are. We dance and train for our own sake because it feels good, and how it looks comes second. Our dance instructor's motto is therefore: if it feels right, then it's right!
Especially when it comes to twerking, the more shapes the better. So do not hold back. You can join in several ways:
Drop in for DKK 100.
Join our studio.
What should I wear for twerk classes?
Loose trousers, shorts or leggings in cotton – you will not get far in tight running tights 😉 Bring a regular training shirt and possibly. Knee pads. We train in bare feet or indoor shoes.
Twerk for bachelorette parties
We often do bachelor parties and events with twerk in the studio, because everyone can participate and because everyone has fun.
Our instructors have many years of experience in holding bachelor parties, and we do just as much to entertain as to teach. You can bring the whole company out to our beautiful, bright studio in Viby J, or we can come to you.
Read much more about bachelorette parties and prices here.
Twerk for bachelorette party was a huge success
"We had booked an hour twerk for a bachelorette party and it was a huge success. The level was challenging, but definitely something we could all be part of. Lisa, who was our instructor, was sweet, smiling and gave a lot of support."
– Ditte